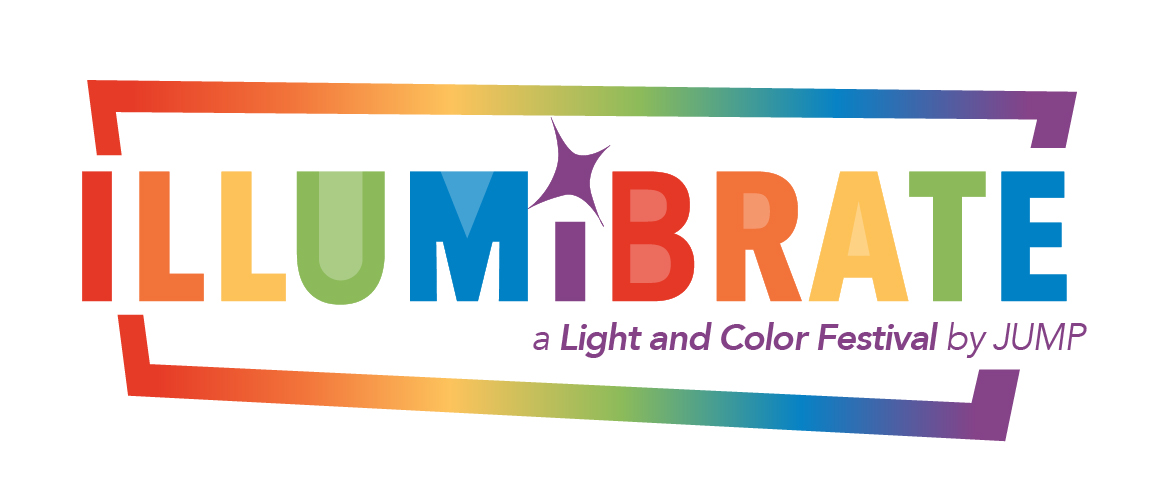 What is Illumibrate?
il•lu•mi•brate
/iˈlo͞oməˌbrāt/verb 1. To illuminate and celebrate the human spirit and our connectedness as a community.
2. A combination of the words illuminate & celebrate.
Illumibrate Light & Colour Festival is FREE family-friendly event. An awe-inspiring evening of colour, lights, and community engagement at JUMP on March 2.  We hope you will join us!
---


Why Are We Doing This?
To lift the collective human spirit by creating an enchanting world meant to celebrate the inner light inside all of us. By illuminating our connectedness, we spread happiness, moving our future in a brighter direction.
---
When & Where?
Friday March 2nd from 6:00 to 10:00 PM at JUMP.
1000 W Myrtle St. Boise, Idaho 83702
Illumibrate Artists
Jim Daniels – Doge Dog and Psychedelic Giraffes

Heather Palmer – Conscious Flow Pillars and Mountainscape

Treasure Valley Artist Alliance – Ladybugs, Ants & Bee's Bugs!


Join us for JUMP's 4th Annual Illumibrate light & Color Festival, a Free event featuring enormous art exhibits, specialty food and drinks and family-friendly entertainment. The Festival has been expanded from a one-day event in March to a month-long celebration, opening on Thursday, June 3rd and continuing through the month of June. All activities and exhibits will take place outdoors in the JUMP Park.

This years' theme, Light Up Your Wild Side promises to ignite the wild side that lives in us all. We will celebrate the creative transformation brought on by a pandemic-induced lockdown to a new environment, where we are forever changed. Our time of reflective quarantine, while lonely and difficult, has provided an appreciation for all living beings of this world. We are emerging with a recognition of belonging to something bigger, and we are more grateful for the gifts we carry and are born to share with others.

This subtle narrative is realized as guests enter the Illumibrate installation through the center of a caterpillar tunnel and travel 40-feet to arrive at a mirrored mosaic butterfly. Upon arrival, one can reflect on our collective metamorphosis and the awe being part of this Wild-Life.

Local artisans have spent countless hours creating art exhibits featuring playful creatures of gigantic proportion! Funded through the Illumibrate Grant Program, participants are empowered to develop creative expressions of Wild-Life. The large-scale whimsical collection has been created with unconventional materials and technology to showcase scenic landscapes and playful displays using color and light and will be on display throughout the outdoor area. Guests will see many displays, including a Doge Dog, Conscious Flow Pillars, Ladybugs, Ants & Bee's - even a giant turtle. To learn more about the individual artists, guests can stop by our INSPIRE Studio on Saturday June 26th to watch a video showcasing the inspiration and the creative process behind the exhibits.