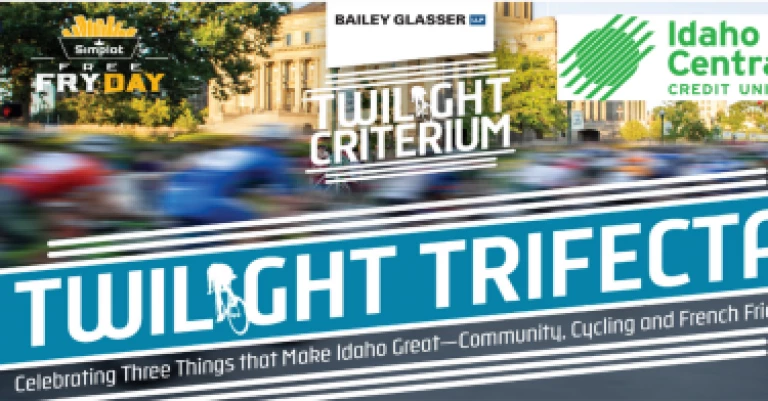 Program Details
WHEN: Jul 8, 2022
TIME: 4:00 PM - 8:00 PM
BUCKET: Exhibit/Display
French Fry Day and the Twilight Trifecta.
Jump Park
July 8th, 2022
4-8PM
Twilight Trifecta Community Kickoff Celebration & Free Fry-Day Announce Concert Headliner
The Twilight Criterium and partners Simplot and Idaho Central Credit Union invite race fans to join for the Twilight Trifecta Kickoff Celebration on July 8 from 4pm-8pm, taking place at JUMP-Boise in conjunction with Free Fry-Day. This community celebration is a fun, family friendly and FREE way to jump in to the weekend and celebrate three things that make Idaho great: Community, Cycling and French Fries.
This year, as part of a larger 35th anniversary celebration for the Boise Twilight Criterium (taking place in downtown Boise on Saturday, July 9), the Twilight Trifecta partners are adding a concert to the festivities that you do not want to miss!
Event Producers are excited to announce that our Headlining show for the Twilight Trifecta is: Head for the Hills, a "cutting edge" festival touring bluegrass 5-person band out of Colorado. Head For the Hill brings "a smart mix of alternative influences and a knack for driving down-home rhythm that gets their crowds to ground their heels in."- Denver post "Head for the hills has had many notable festival appearances in their 15 years as a group, has been awarded Best Bluegrass in Colorado four times, and regularly tours the region. We're excited to welcome them to Boise as part of the Twilight Trifecta Kickoff celebration!" – Karlee May, Event Producer View the bands bio here and photo attached.
Here's what you can expect through out the Twilight Trifecta:
4:00pm-7:00pm : Stop by for Free French Fries and Sliders, courtesy of Simplot.
5:00pm – 8:00pm: Enjoy a free to the public concert featuring local openers The Pan Handles and headlined by Head for the Hills, thanks to our concert partner Idaho Central Credit Union 4:00pm-8:00pm: JUMP will be showcasing the 3-D Basque Museum photo exhibit in the Lobby (with extended Lobby hours to 8:30 p.m.), will have the JUMP Room open with Bike BINGO for a cool reprieve, and open the slides (weather temperature permitting)
The Twilight Criterium bar will be open with beer/wine offerings from our criterium partners Deschutes and New Belgium
All proceeds from the kickoff celebration support registered nonprofits the Idaho Food Bank and the Boise Twilight Criterium.
For more information watch social media or visit the Boise Twilight Criterium website- boisetwilightcriterium.com