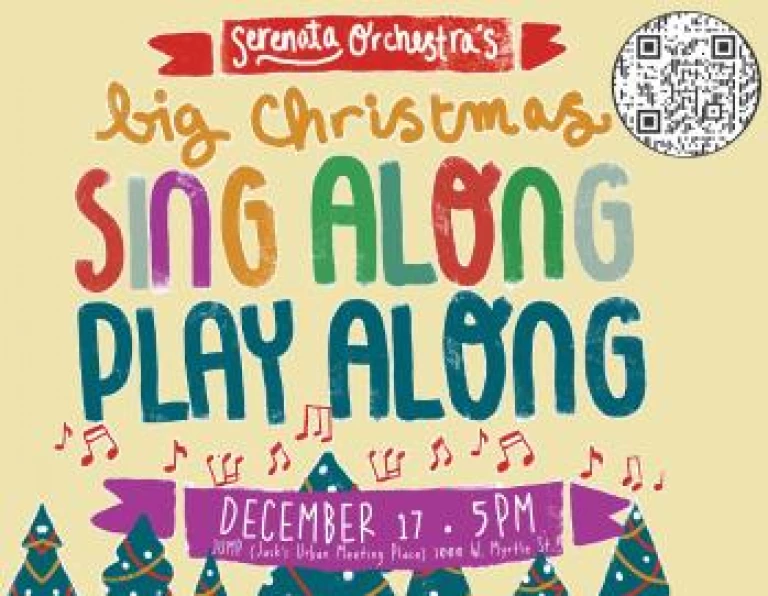 Program Details
WHEN: Dec 17, 2022
TIME: 5:00 PM - 8:00 PM
BUCKET: Program - Community
Serenata Orchestra's SING ALONG – PLAY ALONG

Returning this Holiday Season, Boise's preeminent Messiah Sing-a-long/Play-a-long event is back at JUMP with Boise Serenata!
Come & enjoy this inclusive holiday event filled with merriment, cheer, live music & singing – where YOU are the star! Sing along as the Boise Serenata Orchestra, directed by Jennifer Drake, plays a selection of holiday favorites – including sections of Handel's Messiah – where you, the audience, make up the chorus!
When:
December 17th at 5pm
Where:
Pioneer Room on 6th floor
Price: FREE
Admission! Open to the public!
Or, if your holiday merriment is better represented as an instrumentalist, you are invited to sit alongside members of Boise Serenata and perform in the instrumental pit! Musicians from 10 to 110 years of age and of any playing capability or experience are welcome to sit and play alongside the orchestra.
Please bring a copy of the Messiah if you have one. If you plan to play alongside our orchestra members, please try to bring your own stand as well as your instrument.
Under the direction of Jennifer Drake, the Boise Serenata mission is to inspire a lifelong passion for music, enrich the lives of our musicians and audience, and engage the people of the Treasure Valley by performing free concerts that are innovative, fun, and family friendly. "