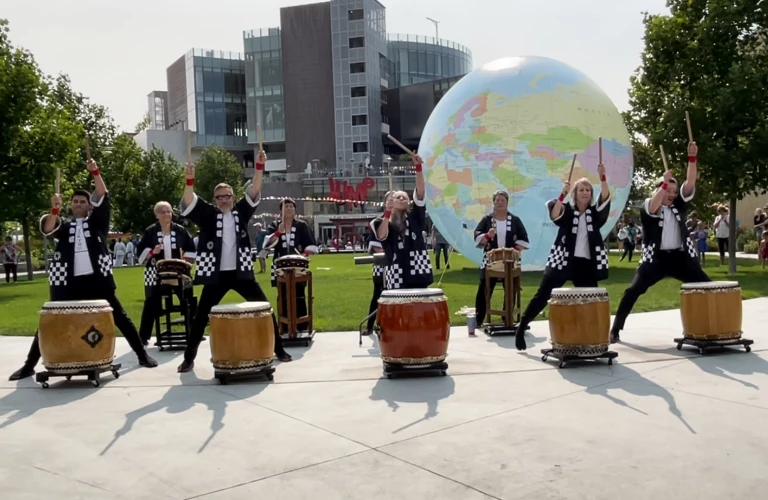 Program Details
WHEN: Apr 27, 2023
TIME: 06:00 PM - 08:00 PM
  Sangha Taiko THANK YOU CONCERT  
Last July, a fire in the basement of the Idaho-Oregon Buddhist Temple in Ontario ruined most of Sangha Taiko's drums, costumes, and equipment.  Since then, we have received astonishingly generous support, financial and material, from IOBT members, other temples, other taiko groups, friends, families, and the Treasure Valley community at large.  This support has provided us with enough drums and equipment not only to keep practicing--no small gift!—but even to plan and mount performances.  What we can give back won't equal what we have received, but we wanted at least to thank our benefactors by performing on the drums they helped us acquire, and to share with all comers our joy at getting to play again.
Taiko (literally "fat drum") goes back many centuries in Japanese culture. In addition to serving as practical tools of communication in villages or on the battlefield, drums figured in religious rituals, court ceremonies, theatrical performances, and popular festivals.  But as a stand-alone ensemble performance art (kumi-daiko), taiko emerged quite recently, in post-war Japan.  The 1964 Tokyo Olympics were a watershed moment: after taiko groups were showcased there as evidence that Japan was rediscovering its national identity, kumi-daiko groups rapidly formed all over Japan, often with government support, and began to appear abroad.
     The American style of kumi-daiko derives largely from groups formed in the late '60s and early 70's by Japanese and Japanese-American players who balanced deep respect for Japanese traditions with creative openness to new sounds, rhythms, and performance styles.  Combined with drum-making innovations that made once prohibitively expensive drums widely available, these groups, through their performances and through the students they trained, made possible the hundreds of taiko groups now active in the U.S., Sangha Taiko included.